Jamestown Golf Course is a 9 hole Public golf course located in Rhode Island – Minutes from Newport, RI – come and play this inviting Links inspired course located within Narragansett Bay. Rolling fairways and generous driving areas make for a relaxing round, but the well manicured greens will test your ability to read greens and putt at every hole. The golf course was first established in 1901 and the subtle history is evident throughout the open, wind blown layout.
Jamestown Golf Course was designed and built in 1895. Many claim that it is one of the oldest public course in the country.
QUICK HISTORY: Recreational activities became important in the early twentieth century. A nine-hole golf course had been established in a cow pasture near the Dumplings in July, 1895, and was in use until about October, 1904. Known as Conanicut Golf Club, it was one of the first in New England (the Newport Country Club was started in 1890). In 1901 a new clubhouse was erected on the south side of the course and links were laid out on the Littlefield-Clarke farm, today's Jamestown Country Club. The clubhouse was moved in 1951 to its present location on Conanicus Avenue. The course contains 74.36 acres, with various environmentally sensitive land management areas.
New England Golf Course Management is tasked with overseeing the Jamestown municipal golf course and the Pro Shop & Lounge ("The Caddy Shack"). Principals in the corporation are Joseph Mistowski as president and his wife Harriet Mistowski as vice president.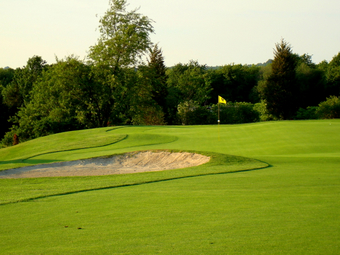 The town of Jamestown and the Mistowskis shared the prestigious 2006 Business of the Year award of the Audubon Society of Rhode Island. The honor was given a few months ago for the local work advancing the society's environmental mission, especially by the innovative water conservation practice of using recycled wastewater for irrigation purposes at the golf course.